November 27th, 2013
We're total foodies in my house. We cook and eat just about every type of food there is, from Japanese to Cajun to French to whatever.
Rigth now I'm getting ready to walk out of my office and head into the kitchen to begin cooking for Thanksgiving. As a native american woman, I probably see Thanksgiving a bit differently than many considering it was the beginning of the end of my people. However, my family does celebrate the holiday by spending time with loved ones and friends and remembering all the many blessings in our lives. Eventhough we try to express thanks and gratitude all year, Thanksgiving is a time for us to spend a day doing nothing but focusing on family abeing grateful.
So, what am I cooking? Cornbread dressing (or stuffing, as some prefer to call it), candied yums with cranberries (sweet potatoes), sweet potatoe pie, macaroni and cheese (made with real cheese), and turkey. My daughter is cookign some other stuff, but she's being creative (as usual) so I'll have to get back to you on what her sooper seekrit nom nom is this year
One thing we are very grateful for is having a full pantry! So remember that you can get the Passionate Cooks recipe book from All Romance eBooks – I have a recipe for Shrimp Creole inside, and it's FREE! Click the graphic to get your copy.
Also, for your nom-nom pleasure, here's a recipe I'd love to share with you from our good friend Emeril Lagasse, Mr. BAM! himself. Happy Thanksgiving, everyone!
Emeril's Creole Cornbread Stuffing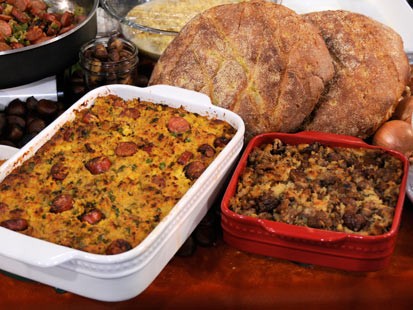 Difficulty: Easy
Cook Time:  min
Ingredients
1 baked Basic Cornbread (12 cups), broken into 1-inch pieces
1/2 tablespoon unsalted butter
4 cups chicken stock (or canned low-sodium chicken broth)
1 cup heavy cream
1 cup milk
2 large eggs
1 tablespoon plus 2 teaspoons Emeril's Original Essence
1 pound andouille sausage (or other smoked sausage), cut crosswise into 1- inch pieces
3 tablespoons vegetable oil
3 cups yellow onions, chopped
2 cups celery, chopped
2 cups green bell peppers, chopped
1 teaspoon salt
1/2 teaspoon freshly ground black pepper
Pinch cayenne pepper
2 tablespoons garlic, minced
4 teaspoons fresh thyme, finely chopped
Cooking Directions
Increase the oven temperature to 400 degrees F. Grease a 10-by-15-inch baking dish or two 9-inch square baking dishes with the butter.
Combine the chicken stock, cream, milk, eggs and 1 tablespoon Essence in a large bowl and whisk to blend. Add the dried cornbread and stir to mix, breaking up the pieces with a wooden spoon. Cover and refrigerate for 1 hour.
Meanwhile, heat a large skillet or medium pot over high heat. Add the andouille and cook until browned, about 5 minutes. Add the vegetable oil and reduce the heat to medium-high. Add the onions, celery, bell peppers, remaining 2 teaspoons Essence, the salt, black pepper, and cayenne and stir to mix. Cook the vegetables, stirring occasionally, until very soft and golden, about 15 minutes. Add the garlic and thyme and cook until fragrant, about 30 seconds. Remove from the heat and add to the cornbread mixture. Stir to mix well. Pour into the prepared baking dish and bake until golden brown, 35 to 40 minutes.
Remove from the oven. Serve warm.
Makes 10 to 12 servings
Recipe courtesy Emeril Lagasse
The original recipe can be found here: http://www.emerils.com/recipe/6780/Creole-Cornbread-Stuffing